Chinese envoy calls for efforts to boost women's participation in peacekeeping
2019-04-12 03:29:27 GMT
2019-04-12 11:29:27(Beijing Time)
Xinhua English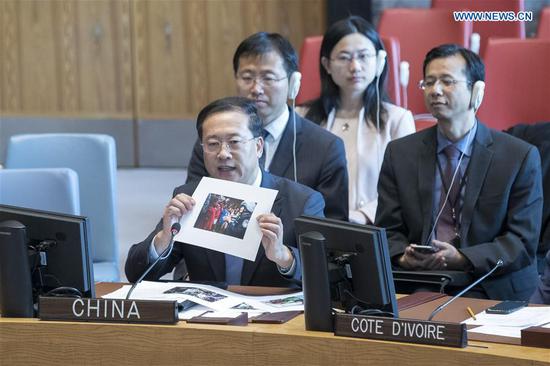 Ma Zhaoxu (Front), China's permanent representative to the United Nations, addresses a UN Security Council open debate on women in peacekeeping at the UN headquarters in New York, on April 11, 2019. Ma Zhaoxu on Thursday asked for more efforts from the international community to boost women's participation in peacekeeping. (Xinhua/Li Muzi)
UNITED NATIONS, April 11 (Xinhua) -- A Chinese envoy on Thursday asked for more efforts from the international community to boost women's participation in peacekeeping.
Efforts must be made to create conditions for women's wider participation in peacekeeping, Ma Zhaoxu, China's permanent representative to the United Nations, told the Security Council.
The international community should strengthen communication to increase support for women's participation in peacekeeping. A favorable environment should be created for women's participation in terms of training, deployment and field operations, he told the council in an open debate on women in peacekeeping.
Ma asked for attention to the national conditions of troop-contributing countries in efforts to gradually increase women's participation in peacekeeping. Such efforts can start on trial basis before they become general practice, said Ma.
Expanding women's participation in peacekeeping requires concerted efforts of all parties, he said.
Developed countries should increase their participation in UN peacekeeping and demonstrate their support for women's participation with real action. The UN Secretariat should increase cooperation with troop-contributing countries, draw up targeted training plans to help them with capacity building, said the Chinese ambassador.
The main goal of UN peacekeeping is to promote the political settlement of conflicts and to achieve peace and stability in the mission areas. All activities must serve this purpose, said Ma.
Strengthening the effectiveness of UN peacekeeping requires joint efforts from the Security Council, the UN Secretariat, troop- and police-contributing countries and host countries at the guidance of the UN Charter and the basic principles of peacekeeping, he said.
The Chinese ambassador also asked for a holistic approach that involves efforts in various fields, such as political settlement, logistical support, personnel safety, and partnerships.
China supports UN Secretary-General Antonio Guterres' initiative of Action for Peacekeeping, said Ma, noting that China is an important supporter of and participant in UN peacekeeping as well as a main troop and financial contributor.
At present, Chinese female peacekeepers serve in six of the eight missions that China participates. China is not only working to expand Chinese women's participation in peacekeeping, but also trying to help other countries to do so. In recent years, the Chinese Defense Ministry and UN Women have jointly organized international training for female peacekeeping officers in Beijing to help increase women's participation in peacekeeping, said Ma.
China will continue its active participation in UN peacekeeping so as to make an even bigger contribution to world peace, he said.