First phase of polling begins in India's general elections
2019-04-11 03:25:45 GMT
2019-04-11 11:25:45(Beijing Time)
Xinhua English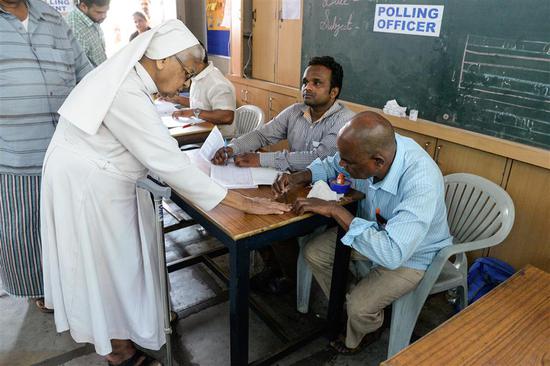 A polling officer marks the finger of a Catholic nun before voting in a booth at a polling station during India's general election in Hyderabad on April 11, 2019.
The first phase of polling in India's general elections began on Thursday morning, and votes are to be polled in as many as seven different phases over the next 39 days.
The first phase of polling began at 7:00am local time, and will continue till 18:00pm local time. However, in other areas the polling timing will vary and end as early as 15:00pm local time.
More than 170,000 polling booths have been set up for the first phase of polling.
The first phase of polling is said to be the third biggest among all the seven phases in terms of number of parliamentary constituencies witnessing polling.